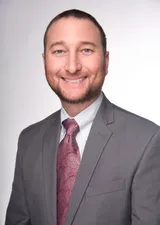 Dr. Chris Powell
Dr. Christopher Powell was born in Georgia where he graduated with honors from Tift County High School in southern Georgia. He went on to attend Valdosta State University where he received a Bachelor's degree in Biology. He is a Cum Laude Graduate of Palmer College of Chiropractic in Port Orange, Florida. Dr. Powell holds a post graduate certification in Electrodiagnostic testing through the International Board of Electrodiagnostics, and is an active member of the American Chiropractic Association, as well as the Georgia Chiropractic Association. Dr. Powell is proficient in multiple chiropractic techniques and is certified in the use of physical therapy. He is married to the former Jackie Wenslow, also of Tifton and they have a beautiful daughter named Cadence and son Reid. Dr. Powell is an avid outdoorsman who enjoys spending his free time either golfing, running, boxing, working his horses, playing with his two Labrador Retrievers, or spending time with his growing family.
Dr. Gary WillisDr Gary Willis was born in Pueblo, Colorado and raised in La Junta, Colorado. After graduating from La Junta High School, he attended Fort Lewis College in Durango, Colorado. In 1986 Dr. Willis graduated from Life Chiropractic College (Life University) where he received his Doctorate of Chiropractic (D.C.) degree. Dr. Gary is married to Janet and they have 2 children, Tim and Allie. At Willis Chiropractic we do our best to enhance our patients experience and to achieve rapid and lasting results using a combination of health care remedies, each designed for your specific needs.

EXPERIENCE:
1986-1990: Willis Chiropractic Center, Kennesaw, Georgia
1990 to present: Willis Chiropractic Center, Alpharetta, Georgia
1986 to 1997: Adjunct faculty, Life Chiropractic College (Life University).
HOBBIES: Golf, Baseball umpire, Skiing
LICENSURES and CERTIFICATES:
National Board Certified-Chiropractic
Georgia-State Chiropractic License
Physiological Therapeutics-State of Georgia
MEMBERSHIPS and ASSOCIATIONS:
Who's who among American teachers 1996
Chair-Board of Zoning and Appeals, Milton, Georgia
Member-Sidewalk board, Alpharetta, Georgia
Voted best Chiropractor in Alpharetta/Milton-2009-2018
2018 Pillar Award for Best Business in Alpharetta, GA
Angela Cochran
Angela has always been drawn to natural healing. She has a special interest in medicinal plants and herbs. She is a wellness advocate for Doterra Oils and believes in its powerful healing properties. A North Fulton Chiropractic Centers front desk/insurance specialist, Angela has a gift for making patients feel warm and welcomed.

Jodi Reichert
Jodi learned the benefits of chiropractic care first hand as an experienced equestrian who suffered a neck injury, due to a riding accident. In fact, she was a patient of North Fulton Chiropractic Center before she became the office manager. She is responsible for handling all in house X-rays and personal injury cases. Jodi is an avid total body health advocate and enjoys helping patients obtain optimal wellness.

Mary Melvin, LMT
Mary Melvin was born and raised in Gilbert, Arizona and graduated Cum Laude from Arizona State University with a Bachelors of Arts in Theatre. She moved to Georgia shortly after graduation in 2012 and attended Georgia Massage School in 2013 where she earned her LMT. Mary is proficient in many modalities of Massage including Swedish, Deep Tissue, Neuromuscular Therapy, Sport, and Lymphatic Massage. Mary is an avid football and baseball fan and when she is not cheering on her favorite team she enjoys spending her free time reading, sewing, and golfing.
Shaheen Bharde, LMT
Shaheen is a board certified neuromuscular therapist and certified cupping therapist.
She graduated from Brunel University in the UK with a BSc in Medical Biology in 1999 and became a nationally board certified massage therapist after that. Shaheen's specialties include neuromuscular therapy, cupping therapy, lymphatic drainage, myofascial release, forward head reversal and clinical aromatherapy. Through her years of therapy, she has done extensive training in oncology and palliative care.
Shaheen loves her volunteer work and currently chairs the Outreach Committee for a non-profit and works with many local businesses and interfaith organizations to build bridges with a larger community. To further benefit the work within the community, Shaheen also serves on the Governing Advisory Board at North Fulton Community Charities, as well as the Pastoral Advisory Committee at Children's Healthcare of Atlanta.
Shaheen has been featured in Women's History month in 2014 and recognized in 40 under 40 Georgia Muslims in 2016. Shaheen currently lives in Alpharetta and is married with two boys.
Be the difference that you want to see in the world - Mahatma Ghandi